25 Indian Food Restaurants 2022 Closest to You for Indian Cuisines
– Indian Food Restaurants 2022 –
As a 2022 Indian or Indian food lover, travelling to the United States of America can be a really exciting experience, except that it might be difficult to eat Indian food at the restaurants around.
If you are in the U.S. and would love to find some Indian food restaurants near you, then read on to find the best restaurants and their best menus.
25 Best Indian Restaurants in the US 2022
1. Cumin – Chicago, Illinois
Located in Wicker Park, Cumin specializes in Indian and Nepalese classics all the way from lamb biryani to chicken momos. Their menu is diverse with a whole host of rich and varied Indian and Nepalese dishes. Be sure to load up on their lamb jalfrezi or bhindi masala for the best bite in Chicago.
Don't just take our word for it though. They've been rated as the best of the best time and time again boasting a Michelin's Bib Gourmand years 2011-2019.
2. Kochi Indian Cuisine – Hightstown, New Jersey
This traditional Kerala-style Indian joint is a true pearl of New Jersey. They offer a wide range of dishes straight from the spice coast so that you can savour everything from Chettinad and beyond.
Treat yourself to their Kerala chicken curry with coconut milk or snag a dish of their delightful daal makhani. Either way, you'll definitely be back for seconds. How could you resist?
3. Bollywood Theater – Portland, Oregon
Bollywood Theater is the go-to choice for anyone looking to eat good in Portland. They are currently only accepting online orders due to the pandemic – but that shouldn't stop you from indulging on some of the best Indian food out there.
Be transported right from your couch to India with any of their delectable dishes. Whatever you do, don't skimp on their famous pav bhaji. This place is for sure one of the best Indian restaurants in America.
4. Adda – Queens, NY
Set in The Big Apple's bustling Queens neighbourhood is one of the best Indian restaurants in the US. Adda or, "a place where people hang out" in English, is ingredient, quality and tradition focused.
They pride themselves on serving Indian food that is modern without lacking in authenticity and have an incredible tandoor lineup. Be sure to try the tandoori gobi made with cauliflower, garlic, ginger and Amul cheese.
When it comes to the top Indian restaurant in the States, Adda is a must-try.
5. Spice Room – Denver, Colorado
Perched up on 38th Ave in Denver is one of the best Indian restaurants in the nation. Spice Room is an authentic Indian establishment that prides themselves on homestyle cooking with fresh quality ingredients.
Whether you're after an aromatic curry or good old chicken tikka you can be sure that Spice Room has you covered. It just ticks all the. tasty, fragrant boxes.
6. Indeblue – Philadelphia, Pennsylvania
Ask anyone in Philly where to find the best Indian food, and they'll direct you to Indeblue in Midtown. At Indeblue they offer a killer selection of modern and traditional dishes from spicy Mirch masala to garlic and nutmeg lamb chops.
They even provide a build your own tasting thali option for those of you who just can't decide. Their slogan is "think global eat local" which shows their emphasis on quality local food with a worldly cultural influence.
7. Badmaash – Los Angeles, California
Badmaash, which translated from Hindi means 'mischievous', is the highlight of LA's Indian food scene. Run by brothers Nakul and Arjun Mahendro alongside their father Pawan, the three are dedicated to providing some of the best Indian dishes in the nation.
Their tandoori chicken tikka is a bit of a legend, and their samosas are to die for. They also offer a variety of not so Indian dishes as well such as braised beef ribs and mango pork belly. If you're going early in the day, be sure to treat yourself to their oat milk chai.
8. August 1 Five – San Francisco, California
Right in the heart of San Francisco's Civic Center neighbourhood, you'll find August 1 Five. This modern Indian restaurant is known as being the best in town for its amazing nuances of the cuisine.
From their house palak chaat loaded with tamarind and cumin to their lamb biryani that is bursting with saffron, it's not hard to see why.
Additionally, they offer a killer cocktail menu with items such as Jaipur Emerald made with tequila, chilli and coconut and the Kokum Cooler with rye and cumin.
READ ALSO:
9. Dimple's Bombay Talk – Iselin, New Jersey
Iselin, New Jersey is home to one of the best Indian Restaurants in the US – Dimple's Bombay Talk. New Jersey, home to one of the largest Indian communities in the US, is known for its stellar Indian food – Dimple's Bombay is no exception. They offer a massive variety of classics but specialize in delicious vegetarian picks.
Be sure to try their legendary tokri chat made with shredded potato, lentils, onions and spices out the wazoo. Additionally, they offer an Indo-Chinese variety if you're looking to taste two of the world's best cuisines at once.
10. Dosa by Dosa – Oakland, California
This is one of the best Indian food restaurants in 2022. Another favourite for classic dosa is Oakland's Dosa by Dosa. This chic and hip eatery does casual Indian fare better than anyone.
They perfectly intertwine hospitality, cosy atmosphere and delicious Indian bites to make for the perfect dining experience.
While the setting itself is certainly stylish and sophisticated, the food is anything but. In the best possible way, of course.
At Doa by Dosa, they keep things comfy with a plethora of casual options like street wraps, rice bowls and our favourite – dosas. Treat yourself to the classic masala potato dosa and any one of their unique cocktail options.
11. Tamarind Tribeca – Manhattan, New York
This is one of the best Indian food restaurants in 2022. Perched up in Flatiron District of Manhattan, you'll find Tamarind Tribeca which doubles as one of the top picks in the nation for Indian food restaurants.
This prestigious Michelin star restaurant is famous for its culturally sophisticated atmosphere and world-class culinary delights.
Choose from any one of their extravagant dishes like the raj kachori made with spiced chickpeas and yoghurt or their drool worthy achari Hiran ki chhampen made from venison chops and pickling spices.
If you plan to dine in, you'll need to make a reservation. Alternatively, you can order online.
12. Ashiana Indian Restaurant & Bar – Houston, Texas
Our next pick for best food Indian restaurants in the US goes to Houston, Texas' Ashiana Indian Restaurant & bar. This bar-restaurant duo combines the very best of Indian cuisine with warm hospitality and speedy service.
For those of you who want to try a little bit of everything, they offer a buffet lunch so that you can get your fill. The setting is simple and no-frills with a menu that's just as laid back. Take your pick from any of their traditional tandooris and dig in…
13. Chai Pani – Decatur, Georgia
If you're in Downtown Decatur and looking to satisfy an Indian craving, head to Chai Pani. The name means "tea and water" and is slang in India for going out for a few sips and having a little bite to eat. At Chai Pani, they embody that.
Here you'll find a massive focus on chaat street food with picks like bhel puri and chicken pakora. Their food is incredible, but the hospitality is fantastic, too.
At Chai Pani, you'll feel right at home while dining on some of the nation's best Indian food.
14. Lehja – Richmond, Virginia
Lehja in Richmond, Virginia has received tons of plaudits for its incredible Indian fare. This stylish and modern restaurant boasts traditional dishes with a contemporary fare with daily street food dishes, wild salmon tikka and a few duck dishes here and there.
The cherry on top of the sundae is their award-winning wine cellar. Their extensive wine options are pulled from all around the globe and fully round off an already incredible meal.
15. Ghee Indian Kitchen – Miami, Florida
Book a table Ghee Indian Kitchen in Miami's Downtown Dadeland for some of the tastiest Indian dishes in the sunshine state.
Famous for putting seasonal and contemporary spins on old school Indian fare, it doesn't take long to see why they are one of the best Indian restaurants in the US. Think of all your Indian favourites, but farm to table and seasonally conscious.
Kick off your meal with a rich bowl of channa masala followed by the fan-favourite roasted pork vindaloo. Don't forget to order a few crisp and crunchy papadums to dip in some chutney on the side.
16. Taj Palace – Bellevue, Washington
This is one of the best Indian food restaurants in 2022. When it comes to tasty Indian food in Bellevue, Washington, Taj Palace does it best. Named after one of the world's most elaborate and spectacular buildings, Taj Mahal, Taj Palace aims to bring that same splendour to your table.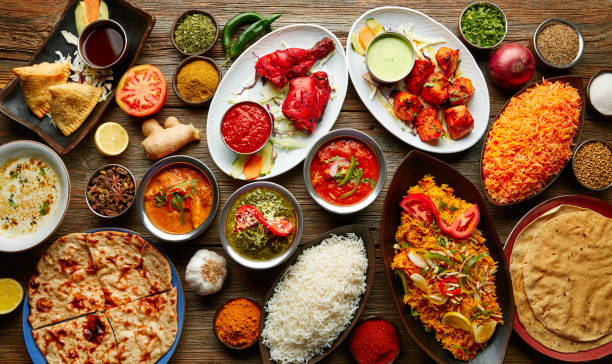 From their fried chicken marinated in yoghurt, ginger and garlic to homemade cheese smothered in lentil paste – you'll definitely leave satisfied. Be sure to slurp up some of their famous mulligatawany Mughlai soup while you're at it.
17. Baba India Restaurant – Cincinnati, Ohio
This is one of the best Indian food restaurants in 2022. Head to Cincinnati's Oakley district for some of the best Indian food out there. This low key Indian joint is the best in the business when it comes to delicious traditional Indian fare served with a smile.
Each of their dishes is bursting with exotic flavour and subcontinental flare. Be sure to pair up your plate with a few bites like their veg or keema samosas.
18. Paper Dosa – Santa Fe, New Mexico
This is one of the best Indian food restaurants in 2022. Santa Fe's very own Paper Dosa is one of the best south Indian food restaurants. Chef Paulraj Karuppasamy, a native South Indian from Tamil Nadu is dedicated to bringing the best of Indian fare to New Mexico.
His dedication is clear in all of Paper Dosa's spectacular dishes from the Rasam fire broth to the Kovai chicken curry.
Of course, the speciality here is dosa, a rice pancake native to South India made with fermented batter. Take your pick from any of the 11 options, from lamb keema to white truffle masala.
19. Indian Accent – New York, New York
This is one of the best Indian food restaurants in 2022. Indian Accent is a high-end NYC gem in Le Park Meridien known for some of the most creative subcontinental fares in the city.
Run by renowned Chef Manish Mehrotra, you can expect an explosion of flavour in every bite.
The ghee roast lamb is simply life-changing, and the vibrant meethe chawal will transport you right to Punjabi heaven. Between the elegant atmosphere, prime location and incredible menu, it isn't hard to see how Indian Accent is one of the best Indian restaurants in the US.
20. Taj Indian Restaurant – Nashville, Tennessee
Right in the heart of the Music City, you'll find Taj Indian Restaurant. Famous for its warm hospitality and rich, hearty dishes, it's a top pick among tourists and locals alike.
From their spice loaded tomato soup all the way on to tender and juicy goat nargisi each dish is drool-inducing. Check out any of their famous seafood specialities like the shrimp kadhai or fish vindaloo for a real treat. Seal it all off with a sweet and creamy rasmali for dessert.
21. Rasika – Washington, DC
This is one of the best Indian food restaurants in 2022. Get your Modern Indian food fill at either of DC's two Rasika locations in Penn Quarter and West End. Here you'll find a massive selection of tawa (griddle), sigri (open barbeque), tandoori and regional dishes.
We recommend starting off with their tawa baingan, an eggplant, potato, peanut and spice masterpiece.
Follow it up with a classic tandoori chicken tikka or go modern with a lobster lababdar. Even better? They are also famous for their extensive wine list, so be sure to grab a glass or two.
22. Tiffin Asha – Portland, Oregon
Tiffin Asha in Portland's Vernon district is one of the best in the business for creative, delicious Indian food. At Tiffin Asha they pride themselves on the innovation they put into each dish and ask guests to come with an open mind.
Their menu spans Andhra Pradesh, Karnataka, Kerala and Tamil Nadu to create dishes that are truly unique and special. Go full heat with their Gun Powder Dosa or snack on their Chicken Pakora with curried mustard sauce for dipping.
23. Himalaya – Houston, Texas
As the name suggests, Himalaya provides all your Indian and Pakistani favourites. From regional delicacies to homestyle delights, it isn't hard to see why it's rated as one of the best Indian restaurants in the US.
Get your fill with any one of their massive platters or slop up some curry – either way, you're in for a treat. Whatever you do, don't leave without at least a few paneer samosas.
24. Bombay Chopsticks by India House – Chicago, Illinois
Not so traditional, but full of flavour. For Mumbai eats, hightail it here! Bombay Chopsticks by India House is the go-to in Chicago for Indian Chinese favourites. It is one of the best Indian food restaurants.
Taste two of the world's most rich and flavourful cuisines with their Szechwan pepper paneer or the signature hakka noodles.
This slice of Indo-Chinese heaven also offers favourites such as Pad Thai and Chopsuey. Be sure to wash it all down with the world's #1 Indian Beer, Kingfisher.
25. Vik's Chaat Corner – Berkeley, California
This Berkeley staple has been serving the best chaat (street food) around for over 30 years. Vik's Chaat Corner is famous for transporting its guests to Mumbai with its incredibly fresh and authentic street food picks.
Make your choice from Dahi papdi chaat, Dahi batata puri, sev puri and so much more.
Whether you're up for a little snack or a full-blown feast, Vik's Chaat Corner is the place to be. One of the best Indian restaurants in America? No doubt!
If you are in India, no worries because these best Indian food restaurants in America offer a variety of the different dishes India and the people who hail from there have to offer.
If you're an Indian in the U.S., I hope this list is able to help you find the best Indian food restaurants to get the best Indian cuisines from in 2022. Feel free to share this information.